GOT GROWTH? 4 Questions to Prepare for Strategy Innovation By Connie Williams
Connie Williams, CMO & General Partner Synecticsworld
When will you start your strategy planning process this year? Most companies do a reasonably good job at strategic planning. Strategy planning is a rigorous implementation process to achieve objectives. It involves a fit to the existing business model aligned with the value proposition already in place. Through historical data and analytical processes, it builds the future plan through past performance. It is largely a numbers driven, analytical process.Not many companies have a strategy planning process that clearly communicates a future goal that can effectively drive new business creation outside the existing model. But it is outside the existing model that each company must find future strategic directions for their companies – a strategic frontier where new growth potential for the organization will be found. This is Strategy  Innovation.
Typically, organizations are not as focused on Strategy Innovation. Is your organization developing new ideas to leverage growth in new markets?   Are you looking at a dynamic future and exploring new frontiers? How are you identifying your next big business platform on the basis of future growth opportunities?
Strategy Innovation is a creative, discovery-driven process based on the future needs of customers and the emerging marketplace. It requires a mandate from top leadership to find new ways to accelerate growth. Companies identify or discover one or more "strategic frontiers" where new growth potential is likely to be found and engage in an immersive discovery process to uncover its potential.
A strategic frontier is a market, product, technology or business process that sits outside of the company's existing business model and strategy. Choosing a strategic frontier is part of the question about "what's next for your company?" If the answer is "more of the same" then you are stuck in an incremental way of doing business, designed for modest growth. To change the growth trajectory, a strategic frontier must be explored to generate potential growth in between today's business and tomorrow's opportunities.
Once the strategic frontier is identified, the discovery process includes a disciplined yet creative exploration: lots of listening to prospective customers, examining trends (both relevant and 'unrelated' perspectives), synthesis and then invention and refinement to articulate innovative new business opportunities. These new opportunities will naturally require a shift in business strategy to create new value for both the customer and the organization. Therefore, the Strategy Innovation process should precede strategy planning in order to have new growth opportunities to capitalize on in the strategy planning process.
What's the difference between Strategy Planning and Strategy Innovation*?
| | | |
| --- | --- | --- |
| | Strategic Planning | Strategy Innovation |
| Process | Analytic/quantitative | Creative |
| Based on | Current business model | New business model |
| Goal | Extend current value | Create new value |
| Focus | Company-centric | Customer-centric |
| Assumes | Future similar to the present | Dynamic future |
| Principles | Abide by rules/traditions | Break the rules |
*Credit to Robert Johnston & Douglas Bate "The Power of Strategy Innovation"
There are four critical questions to ask to see if your organization is ready for Strategy Innovation
1. Do you have a management mandate for Innovation?
2. Do you have the dedicated infrastructure in terms of people, accountabilities, resources, office space, time) that reflects that mandate?
3. Do you have the right process for your organization, tailored to your strengths and your ambitions?
4. Do you have the kind of supportive culture that's necessary to achieve the mandate for innovation?
The answers to these questions are the key to knowing if dedicated work on Strategy Innovation can transform your strategy planning process into significant future growth. Strategy Innovation is the key to unlocking the powerful potential that hides within your organization.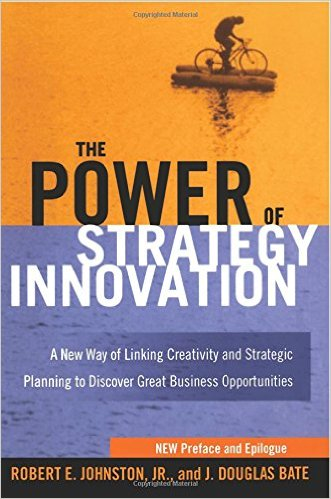 Former Synector Bob Johnston has returned to partner with Synecticsworld to help organizations uncover new strategy frontiers.
Bob, along with Doug Bate, wrote the seminal book, "The Power of Strategy Innovation: A New Way of Linking Creativity and Strategic Planning to Discover Great Business Opportunities". It is a practical guide for implementing Strategy Innovation.
Synecticsworld can help align your company's readiness to affirmatively answer the 4 questions to make Strategy Innovation successful. If your company needs new sources of growth, let us help you discover the power of Strategy Innovation.
Skype Me
Email Me